Yoga is a relaxing practice. After a tiring day full of stress and anxiety, sitting on the yoga mat can be relaxing. Exploring our inner selves provides us with the refreshment that cannot be compared with anything else in the entire world.
Even though yoga is for individual spiritual exploration, it is highly appreciated to practice in group settings like in studios and even some outdoor spaces. Unfortunately, with the spread of Covid and various forms of bans on social affairs, most people are confined to their homes. It may seem good news because it doesn't get in the way of practicing yoga. Yoga can easily be practiced at home. All you need is your mat and yourself.
While performing yoga at home, this does raise a question. Do I need a yoga mat on a carpet? This question might seem straightforward but, it isn't necessarily.
So, to answer this question, let us consider the following aspects with all the pros and cons to clear the mist off our minds.
Doing Yoga on carpet
Doing yoga on a carpet with or without a mat is a mixed bag. There are both pros and cons of practicing yoga over a carpet. And more importantly, it depends on the type of carpet you have and the form of yoga postures you will be practicing.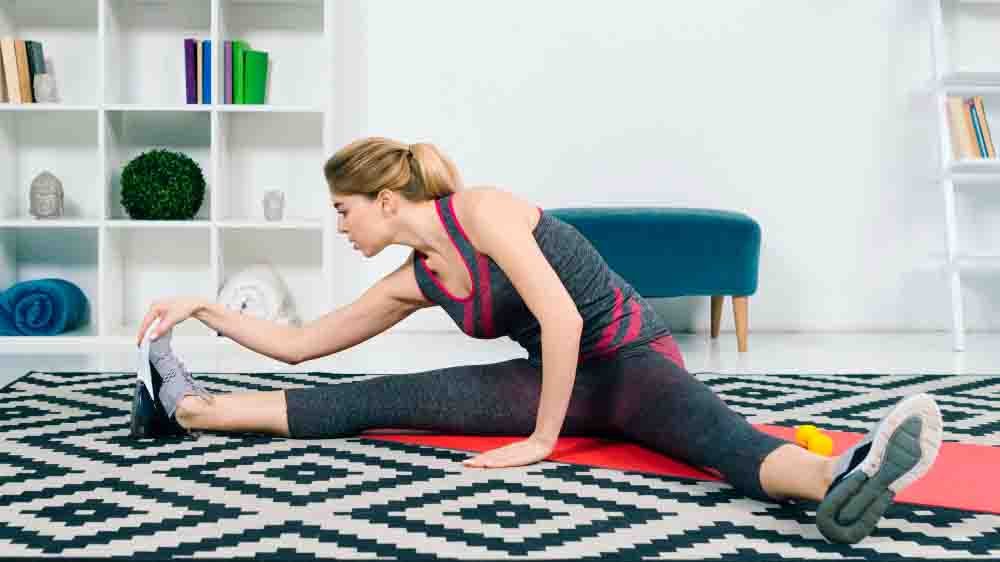 PROS:
If you have a soft carpet, it can provide cushioning for your limbs and joints as there will be less pressure on your wrists and ankles.
The carpet is in your home can make you more confident with your poses. Since you spend a lot of time walking and standing on the carpet you will be familiar with how it feels under you, giving you more confidence and peace.
If you're someone that's looking for a challenge and have already mastered a lot of poses, the difficulty in balancing over a soft carpet can just be the thing you need to try.
CONS:
If you're a beginner, trying to balance your postures over a carpet can be very hard. If the carpet is too soft you will have a hard time trying to find support under your feet or for your hands to practice properly.
Some carpets bend easily and since during some asanas you have to stretch along the ground you may end up pulling or pushing the carpet along with your mat, which can get in the way of your pose.
Even if you're confident, practicing yoga over carpets can lead to pulling muscles or tripping. Injuries to your joints can be a primary concern.
If the carpet is rough, you may end up with rashes and skin burns.
Practicing yoga over a carpet can raise hygiene-related concerns since all of the sweat is directly absorbed by the carpet's material.
Yoga mat on carpet
The above pros and cons are still applicable even if you use a yoga mat over your carpet. But you can help improve your situation by using an appropriate yoga mat.
We recommend making sure to use a mat with the following traits:
Provides a grip over the carpet
It provides enough cushioning to provide support to joints
It is made of a material that is easy to clean
It is made of durable and sustainable material
In suburban areas, houses are carpeted which leaves us with no bare floor to practice yoga. In such situations, one might wonder what to do. If your house is also carpeted and you are thinking, "Do I Need a Yoga Mat on a Carpet?" then you are in right place. I will answer all these questions.
First, come,  let's discuss what you can or cannot do. You have 3 options:
1. You can remove the carpet and practice yoga
You can always roll a little bit of carpet from the side to perform yoga and after you're done you can unroll it again. In this way, you do not need to wonder if you're doing anything wrong or not. The sanctity of your yoga place will be intact and, you can perform your yoga with the same amount of zeal and enthusiasm as every other yogi does. But there is one little problem, rolling and unrolling or carpet can be exhausting. Yoga which is a relaxing practice in itself can turn into a stressful event because of the thought of all the extra effort you might have to put into it.
2. Can you Practice yoga directly on the carpet without yoga mat?
The answer to this question very much depends on what kind of carpet do you have in your house. Is it comfortable? Can it provide the same cushioning and support as does a yoga mat? Many factors come into consideration. If you are thinking about performing yoga directly on the carpet without using a yoga mat then you should know the following things.
Carpet burns
Practicing yoga on a carpet can cause carpet burns in your ankles or knees. Any swift movement can be a little harsh. So, if you are doing yoga on a carpet, make sure that you do not do any swift or harsh movement.
Fatigue of Wrist joint
Practicing yoga on a carpet can also cause excessive strain on your wrist due to the carpet being less comfortable than a mat. It does not provide the same cushioning effect as a yoga mat.
Ceremonial importance
A yoga mat has its importance. When you do yoga on a yoga mat, it acts as your own personalized safe space where you relax. The mere sight of the yoga mat is enough to make your brain anticipate the calming effects of yoga. You feel relaxed mentally as well as emotionally. While practicing it on the general carpet of your house, you would not have the same relaxing effect.
It's not hygienic to practice yoga on a carpet alone
We walk on carpets of our house no matter how much we clean them, some dirt and dust stay in between the fibers of the carpet. Moreover, if you practice yoga on a carpet, your sweat trickling down from your body will get absorbed into the threads of the carpet. Now imagine that you are practicing yoga on the same stinky carpet. Your bare hands and back touching the carpet. Does that feel right to you? It is not sanitary and hygienic to perform yoga on this carpet.
It's not easy to clean the carpet after yoga
If you practice yoga on a carpet, which means that your sweat and bodily secretions will get absorbed on it. After some time, it will get smelly and dirty. In the case of a yoga mat, you can clean the mat easily. But since a carpet is not small, it is quite tough to remove the whole carpet and get it cleaned. That's why you must practice yoga on a mat.
3. You can use Yoga mat on a carpet
After reading the above text, you can conclude that it is not easy to remove the carpet and practice yoga on a yoga mat. That leaves us with only one option; practicing yoga on a yoga mat placed over a carpet.
So, if you're wondering that do I need a mat on the carpet? The answer to this question is yes. You do need a mat. Several companies have specialized yoga mats that are compatible with carpets.
Even if your yoga mat is not specialized to work specifically on a carpet, still it can work better on a carpet. Why? Well, because the bottoms of a yoga mat are made in such a way to grip the slippery floor of your house. And the grip is enhanced when it is placed on a carpet.
But before you start practicing with your yoga mat on a carpet, you must know that some yoga mats that are not of good quality can be subjected to more than usual wear and tear on a carpet because of the harsh contact between the both.
Conclusion
From all the above discussions and aspects, we can sum up this conclusion that yoga can be performed with or without the yoga mat on the carpet under certain conditions. As not every mat is eligible to be placed on the carpet for a perfect yoga experience, the same is the case with carpets. Even though with the above discussions, firstly, we can conclude that the carpet may or may not be used for yoga directly and hence have its pros and cons which, should be considered while performing. Secondly, the yoga mats over the carpets cab give us more grip, traction, and catamenial controls over our practice.
Hence we can conclude that you need a yoga mat on a carpet for the perfect experience.
I hope we have managed to answer your question about Do I need a yoga mat on the carpet? Till then, stay safe and happy yoga.