Yoga is synonymous with words like "therapeutic", "healing", "spiritual", etc. People that attend yoga sessions often talk about healing through meditation. However, does that mean they just had a therapy session? Therapeutic is an adjective people generally use to imply an experience they had as a wholesome one. But for practice or experience to be therapy in itself means there was an endeavor to focus on the specific needs of a person. A yoga class may feel therapeutic but if you are dealing with a very specific problem and want a holistic approach to finding relief. Then, you want to consult a certified yoga therapist.
Much like how a psychotherapist guides a client through introspection of the mind. Likewise, a yoga therapist specializes in helping clients heal through physical, mental, and spiritual means. Moreover, a yoga therapist trains in specialized knowledge and techniques that are intended to guide their clients. They guide them according to their specific needs. Basically, the goal of the therapist is not to "fix" the problem but to facilitate clients with the holistic tools that will strengthen them physically, emotionally and spiritually.
Duties of a therapist
The therapist might provide the following in a general session:
An inquiry about the client's medical history and specific conditions
Analysis of breath, posture, gait, and poses
Advice on what poses and movements will best support the client
Advice on which meditative techniques will promote the most relaxation
Create a course of treatment
Physiotherapy vs. Yoga therapy: What's the difference?
1. physiotherapist
It is fair to assume that generally the client approaching the avenue for yoga therapy will be seeking help for their physical conditions. But in that case, does the expertise provided by the physiotherapy not good enough? Why would they even consider yoga therapy? The answer in this case lies in what separates yoga therapy from physiotherapy. It's not that one is better than the other. Rather than their approach to dealing with the client's concern and their focus is simply different.
A physiotherapist is trained to focus on the material side of the problem. They focus on the body alone. Moreover, they are extensively trained to help clients with all areas of the human body and are knowledgeable about all kinds of medical disfunctions. While they are not medical doctors they are trained in diagnostic tests to identify the roots of a client's physical problem and they perform passive techniques to help the body relax which leads to comfort and ease for the client.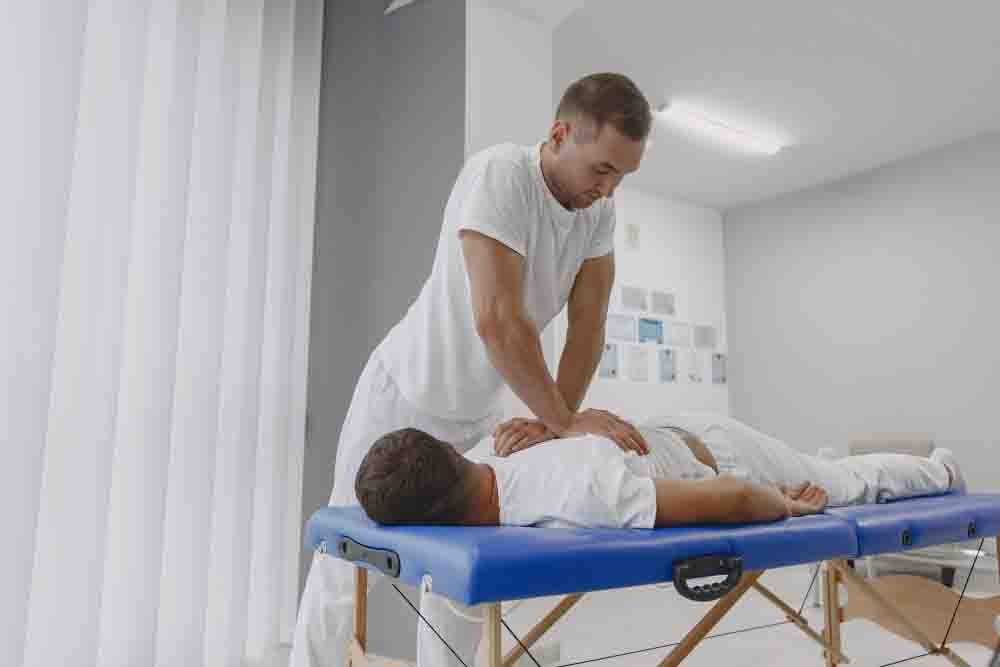 2. Yoga therapist:
A yoga therapist, by contrast, does not focus on the medical condition itself. He provides the client with the support they require to best deal with their condition. They will provide the client with holistic guidance for everything. It ranges from the most suitable yoga exercises to breathing techniques to lifestyle modifications as a support in their journey of healing. Additionally, a yoga therapist is trained to optimize healing potential. Also, he learns to assess breathing patterns to assess how they might affect healing outcomes as well as anatomy.
It is fair to say that ideally, a combination of both physiotherapy and yoga therapy will lead to the best possible health benefits for a client. There are many cases and especially in regards to serious medical or neurological conditions for which both physiotherapists and yoga therapists have to stay in contact. They share updates and exchange information periodically to help the client make a recovery through sessions.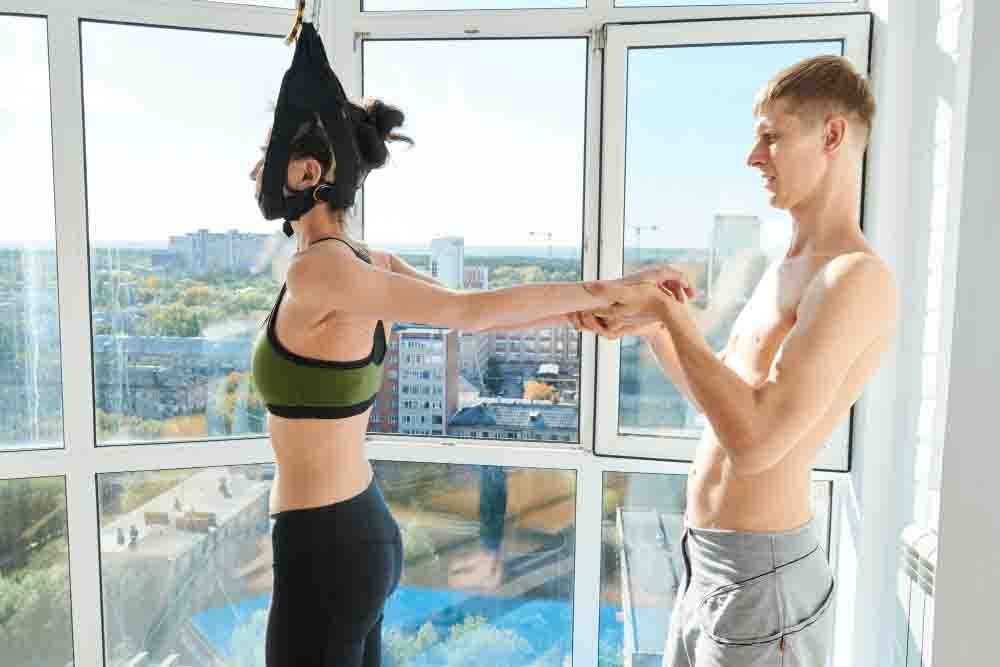 Issues that are treated by yoga therapy
While clients can visit utilize the services of a yoga therapist for a variety of conditions. Some of the popular problems that are addressed by yoga therapy are:
Depression and anxiety
Post-Traumatic stress Disorder (PTSD)
Schizophrenia
Backache
Cardiac problems
Breathing Problems
Fatigue
High blood pressure
Harmful effects of chemotherapy
How to become a yoga therapist?
If you want to learn how to become a yoga therapist, then keep on reading:
Requirements to become a Yoga Therapist
Becoming a yoga therapist is neither short road nor an easy task. A person who has attended one yoga class can't just claim also to be qualified as a yoga therapist. There is a long and extensive process that requires learning, teaching, and practicing to espouse the necessary skillset to assist clients best
Practice Yoga:
You need to have been practicing yoga for a min of 3 years
Become a Yoga Teacher:
You will need to complete a course for becoming a yoga teacher
Practice teaching yoga for over a year with a min of 120 hours
Join a Therapy program:
The next step will be to find and join an Eight hundred-hours therapy program that is recognized by IAYT
These programs can take 2 years or more to complete
Mentor in Clinical Practice:
Firstly, you have to complete your program. Then, you have to join a yoga therapy facility where you will practice with clients with the guidance of expert therapists
Apply to International Association of Yoga Therapists:
Once you have completed the above steps, after that you are ready to finally apply to become a certified yoga therapist as a program graduate
Some of the best Yoga teaching certification courses in the world
To help you prepare for the best possible. Here is a list of the courses considered the best in the world:
1- 200 Hour RYT Pahoa, Hawaii
2- 200 Hour RYT Arcata, California
3- 300 Hour RYT Pahoa, Hawaii
4- 300 Hour The Himalayan Yoga Institute Losinj, Croatia
5- 300 Hour The Himalayan Yoga Institute Pondicherry, South India
6- 200 Hour Prana Casa Algarve, Portugal
7- 200 Hour Ajarya Yoga Academy Asthanga/Vinyasa Rishikesh, India
8- 200 Hour Ajarya Yoga Academy Hatha Yoga Rishikesh, India
9- 300 Hour Ajarya Yoga Academy Advanced Asthanga Yoga Rishikesh, India
What kind of knowledge does a Yoga Therapist have?
If you have followed all the steps in your journey, you will now have the following expertise:
All the basic techniques and yoga exercises.
Yoga therapy:How to tailor your knowledge to best suit the physical and mental condition of your client.
Anatomy:A functional knowledge of all the parts and systems of the human body.
Physiology:You will be aware of how the body works under different conditions and what the warning signs that require medical attention are.
Ayurveda and alternative healing:This knowledge will provide insight about diet and constitution which will be imperative during the course of therapies.
Business practice: Obviously, the last thing a yoga therapist would be aware of is how to run a yoga therapy Centre.
How long does it take to become a yoga therapist?
As a learner, your best bet should always be in the learning process. Typically a yoga trainer has to go through some special training and a minimum of 500 hours of training and instruction.
This can be more or less depending upon certain criteria of a center or a program. As yoga is evolving so do its poses, so becoming a complete yoga trainer is always in process.
How much do yoga therapists make?
National Average
| | | |
| --- | --- | --- |
| | Annual Salary | Monthly Pay |
| Top Earners | $107,000 | $8,916 |
| 75th Percentile | $82,000 | $6,833 |
| Average | $65,484 | $5,457 |
| 25th Percentile | $42,000 | $3,500 |
How is yoga useful as a therapist?
As yoga is a sound connection of your mind with body, it has made great changes in yeh medical field too.
Being the peacemaker, yoga has effectively helped out to treat everyday routine diseases like fatigue, asthma, depression, anxiety, back pain, disc slips, and many more. So being solely a healer, yoga can do wonders for your mental and physical health. It is all about having fun while doing it.
Conclusion
If you are someone that is deeply inspired by yoga philosophy and feel a calling to heal other people. Then, you must learn how to become a yoga therapist. If you want to advance your knowledge of holistic therapy techniques, or have the ambition and creativity to develop your own techniques. Then the path to becoming a yoga therapist is meant for you.
Enhance your knowledge with an IAYT certification course and embrace the diversity of styles and approaches in yoga therapy. Delve into the academic side of yoga as you increase your knowledge about the philosophy, science, and research underlying yoga practices under the mentorship of field experienced experts. They will teach you how to effectively use yoga as a therapeutic modality.