Do you like yoga? Would you like to do it with your friends? Well, 4 person yoga poses are just for you to try. We have collected all information concerning this acro yoga variation.
4 person yoga is the acro yoga training involving 4 people. It is really beneficial for your body health and improves cooperation and mutual understanding between partners. Moreover, it is also fun, so let's go deep into it!
Group Acro Yoga – A New Way to Improve Health
Acro yoga is a mix of acrobatics and yoga practice. This is not only a method for improving health but also enhancing the sense of unity and cooperation between the partners.
Group partner yoga is a rather new practice. It combined group gymnastics and the philosophy of ancient yoga. The practice helps to relieve back pain and reduces stress. Moreover, group partner yoga is also fun.
There are many variations of acro yoga depending on the number of people participating in the process – 2 people, 3 people, and 4 people.
For all variations of acro yoga, the common thing is its benefits.
Advantages of Group Acro Yoga
Compared to traditional yoga, which helps you get out of social reality, acro yoga enhances and improves social relations with partners while enhancing physical and mental health.
Improved Mental Health
Like conventional yoga, you can strengthen your mental health through exercise. Challenging acro yoga poses are a mix of physical, mental, and breathing practices that helps you to enhance concentration and clean the brain.
However, if you do partner yoga, it also helps to reach a high level of cooperation and trust.
Better Communication and Conflict Resolution
Cooperative stretches and assistance help to improve trust. It is a fact. The simple reason for that is that common goals, and common efforts bring about clearer mutual understanding. When they make mistakes, they try to overcome them together and not blame each other for that. These people start to be more tolerant of each other's opinions. There is even a saying about that:
"Friends who acro together, stay together."
Back Pain Relief
Solo yoga helps to reduce back pain. The same does acro yoga. Moreover, it has been proved that group acro yoga poses help against back pain even better.
The reason is simple. You cannot do the same stretches alone. It is only possible with with your partner or your partner's assistance.
Let's now see what kind of ideas there are for 4 person yoga poses.
More: Long Term Benefits Of Hot Yoga
Starting Acro Yoga
Beginning doing acro yoga is very simple. All you need is a yoga mat or yoga mats for partners and a suitable space for your needs.
There are many types of yoga mats of different types of tastes and applicability. In addition, you will also need a suitable dress for yoga poses.
As for the space for yoga training, it is preferable that you choose an open-air space. Even better if the ground is covered with grass as it will be pretty convenient for practicing yoga. However, if you don't have such space nearby, don't worry; you can always use your own space or a studio. You should only take into consideration that there is nothing breakable nearby.
At last, you will also need to have a supervisor that will teach the newbies and ensure their safety. It is not so easy to do yoga poses, and the supervisor needs to make sure that no one gets injured in the process of learning.
More: Hot Yoga Shorts – What to Wear to Hot Yoga and Bikram Yoga
Let's now figure out how to start if you have already gathered and organized everything to start the yoga session.
Warm-Up
Generally, before every training exercise, you need to warm up to ensure that your muscles are not tightened. In addition, you need to mentally prepare yourself for acro yoga poses.
For that, many yoga trainers recommend starting with basic yoga poses like Vinyasa flows or Cobra Pose. You should surely start doing the warm-up exercises with your partners in order to get synchronized with them.
Get Comfortable with Your Yoga Partners
Yoga is an intimate experience. That is why it is essential that you feel convenient with your acro yoga partners. That is why you need to start to warm up together.
It is highly recommended to do some cooperative exercises together. In addition, you can also practice pranayama breathing. This brings you to another level of mutual understanding.
Start to Practice Basic Flying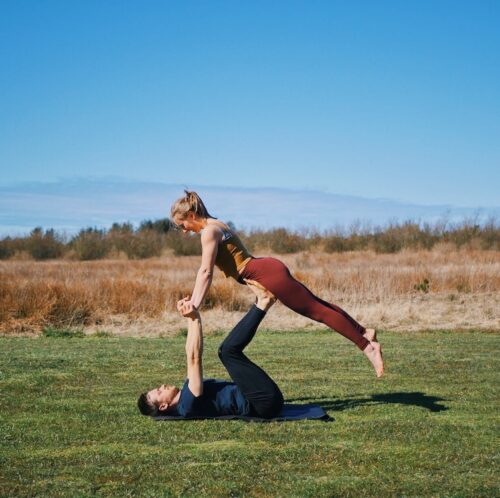 The very basic yoga pose is the basic flying pose. After you have warmed up and reached mutual understanding and cooperation with your partner, you can start with that one.
What should you do? One of the partners, the base, lies on the back, folds their knees, and puts the feet on the hips of the second partner – the flyer. Afterward, the flyer slowly leans upon the feet and reaches the hands of the base. Then, they slowly straighten up. In the end, you should get the position on the photo.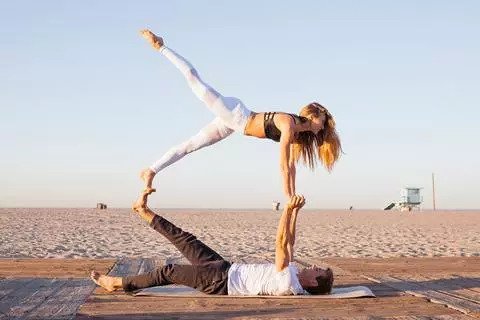 It is very important to start to do this exercise with 2 people before beginning to do 4 person yoga poses.
Get Creative with the Group
Finally, if you have already mastered the basic flying pose, you can go on for 3 or 4-person yoga poses.
The most famous and easiest of them are the downward dog position and the plank position.
These poses are both helpful and funny. You can be creative in mastering new poses or thinking of new poses. It is very important at the beginning to have another person who will control the situation as it is important to make sure that all participants are comfortably posed in their positions.
More: Do I Need a Yoga Mat on a Carpet?
4 Person Acro Yoga Pose Ideas
We have collected some ideas for 4 person yoga poses. We included easy poses here, and some hard, challenging acro yoga poses that are hard to realize, especially when you are just starting this practice.
Let's see what we have!
Easy Beginner 4 Person Yoga Pose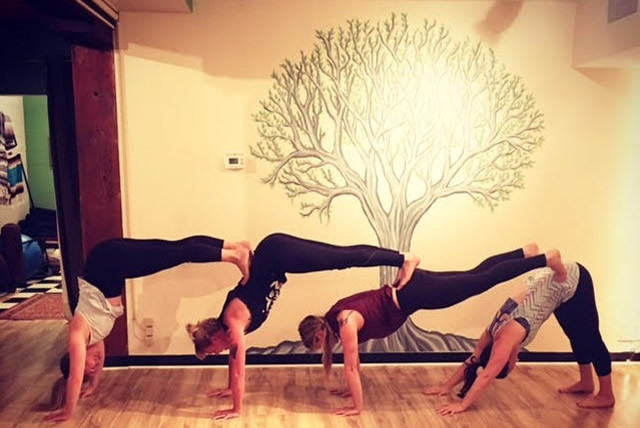 This is one of the easy yoga poses for four people. The pose is called a downward dog position that can also be done with 3 people or more than 4 people.
Generally, it is the Adho Mukha Svanasana yoga pose. Just the modified variation with 4 people. As you can see from the picture, only the right-wing person does it. Others put their legs on the other person's back. This posture makes the shoulders more flexible and strengthens the legs.
Beneficial and easy, this posture seems the right option for acro yoga for beginners.
Beginner 4 Person Yoga Pose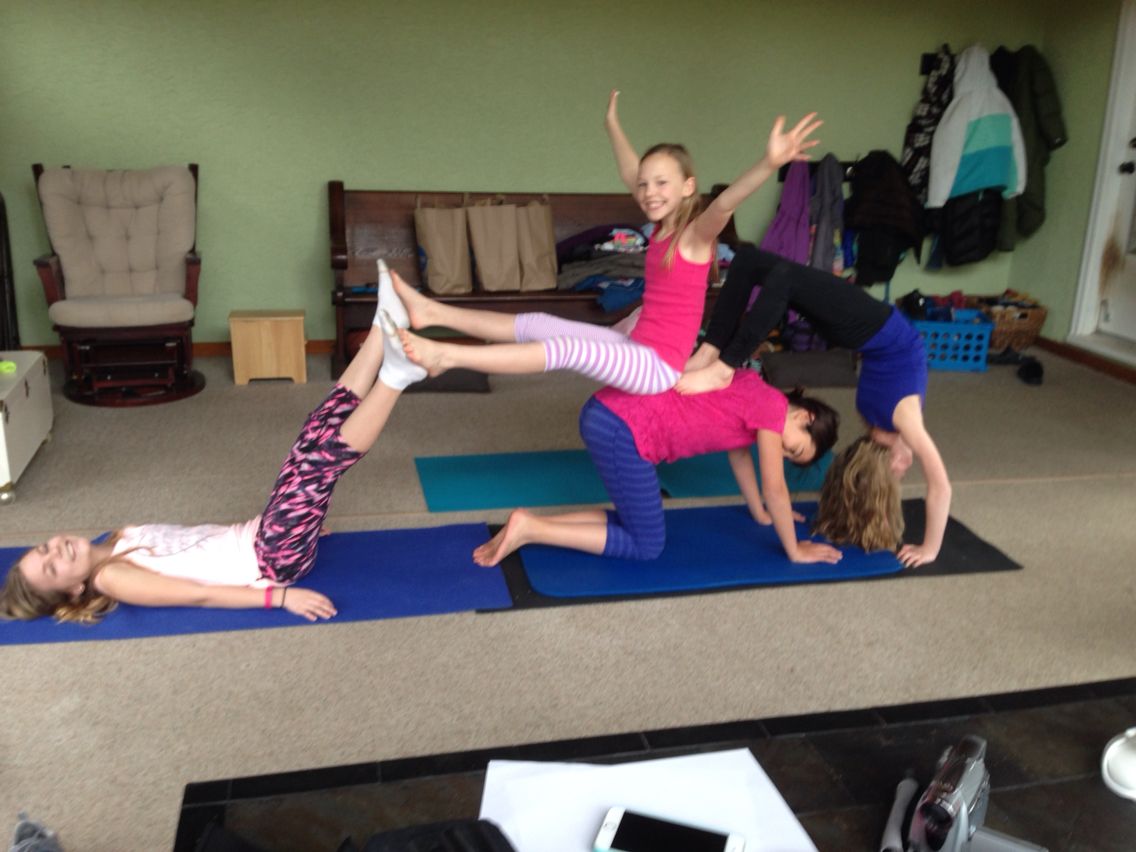 These 4 Person Yoga poses for beginners are shown by children. This is not so easy, though not so difficult either. Two children on mats are the bases. One on the top is the flying person with not so usual flying pose. The right-wing girl does headstand posture variation, but she puts her feet on the back of the other one.
3-level Acro Yoga Pose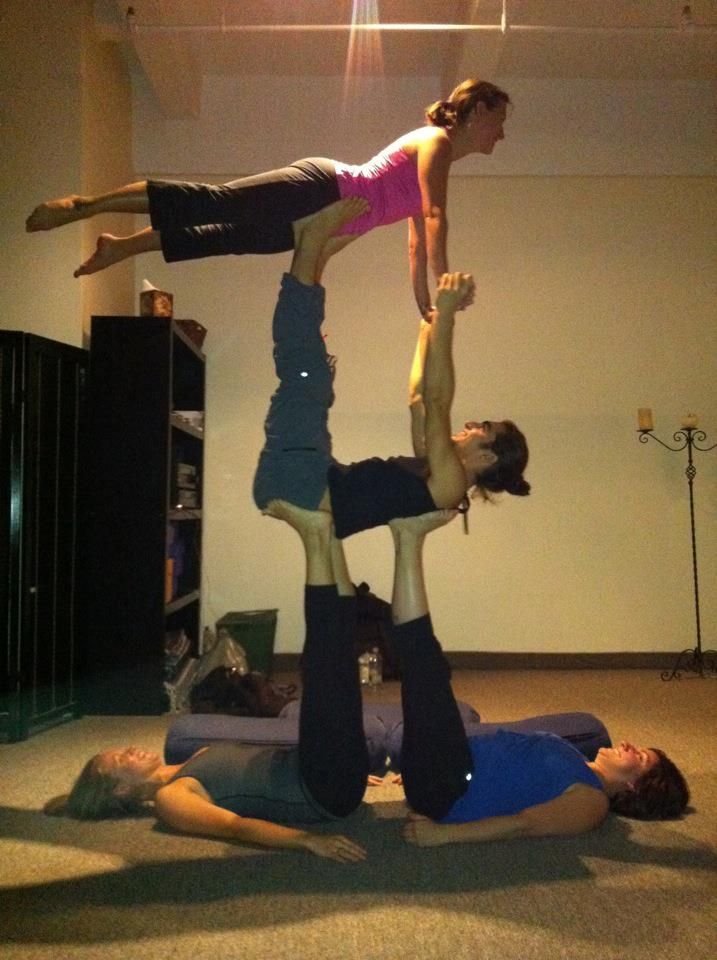 Two girls here are bases for another girl on the second level. The girl on the second level is a base for the girl on the 3rd level for her part. So the last girl is in the one in the flying pose.
It is recommended to practice it when you have 5th person supervising the process.
Cool 4 Person Yoga Pose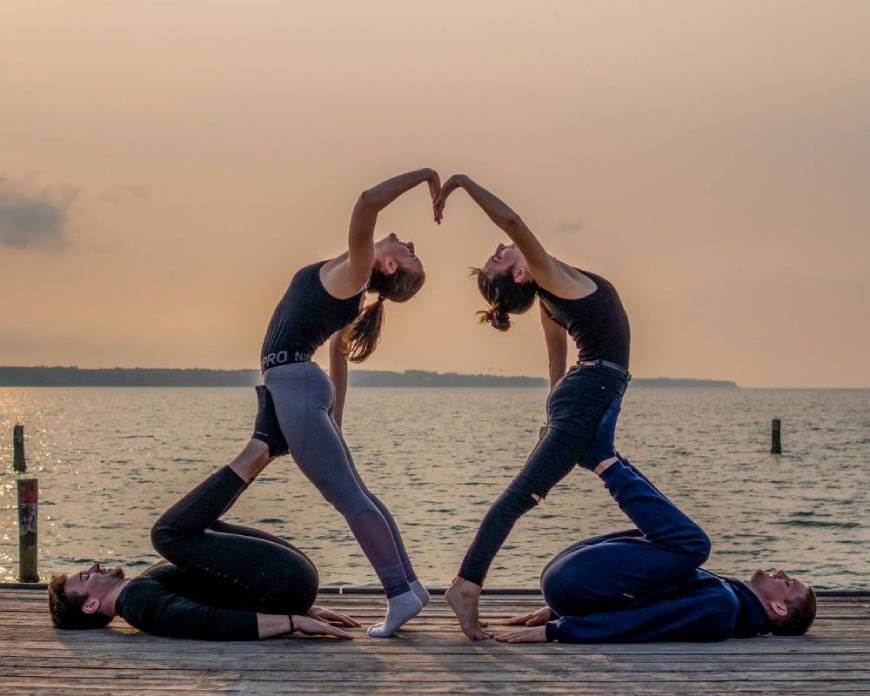 Wonderful, isn't it? We have selected this posture as the most beautiful one. Here, 2 сouple partners simply do 2-person acro poses combined.
Here, they basically do the beginning stage of the flying pose. The men are in the child's pose while women lean towards their partners while standing on their toes.
This pose is not so hard either if we compare it with the next poses.
Extreme 4 Person Yoga Pose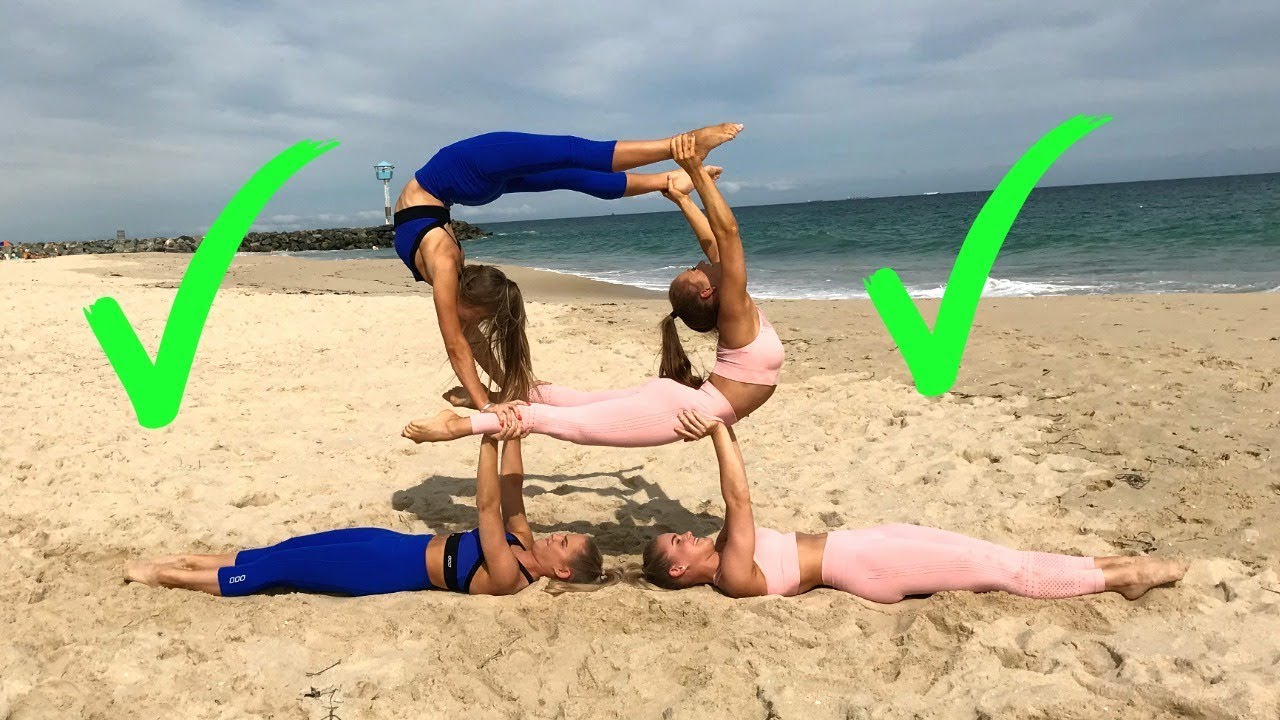 This 4 person yoga pose is extremely hard to accomplish, though it is very beautiful too. As you can see, two girls lie on the sand with hands raised up to assist the third one in a flying position. The first flying girl holds the legs of the other flying girl. The second flying girl does the same, but her single support is the first flying girl.
Advanced Acro Yoga Pose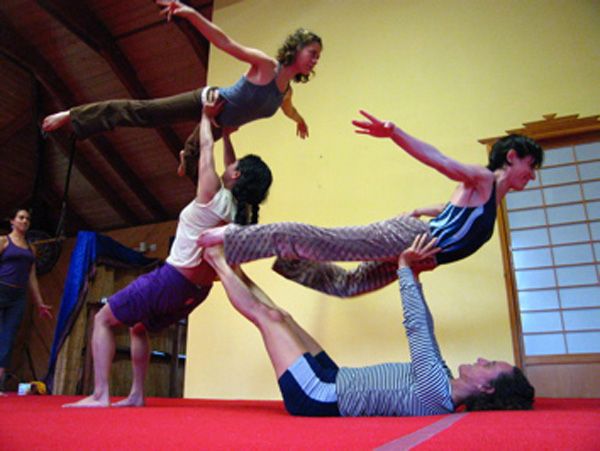 One more interesting yoga pose for 4 people. Here, one man and a girl are bases. However, the girl leans on the man's legs. Two others are in the flying pose held with the hands of the girl and the man.
This 4 person yoga pose is manageable if you have already handled the flying pose.
Hard Acro Yoga Pose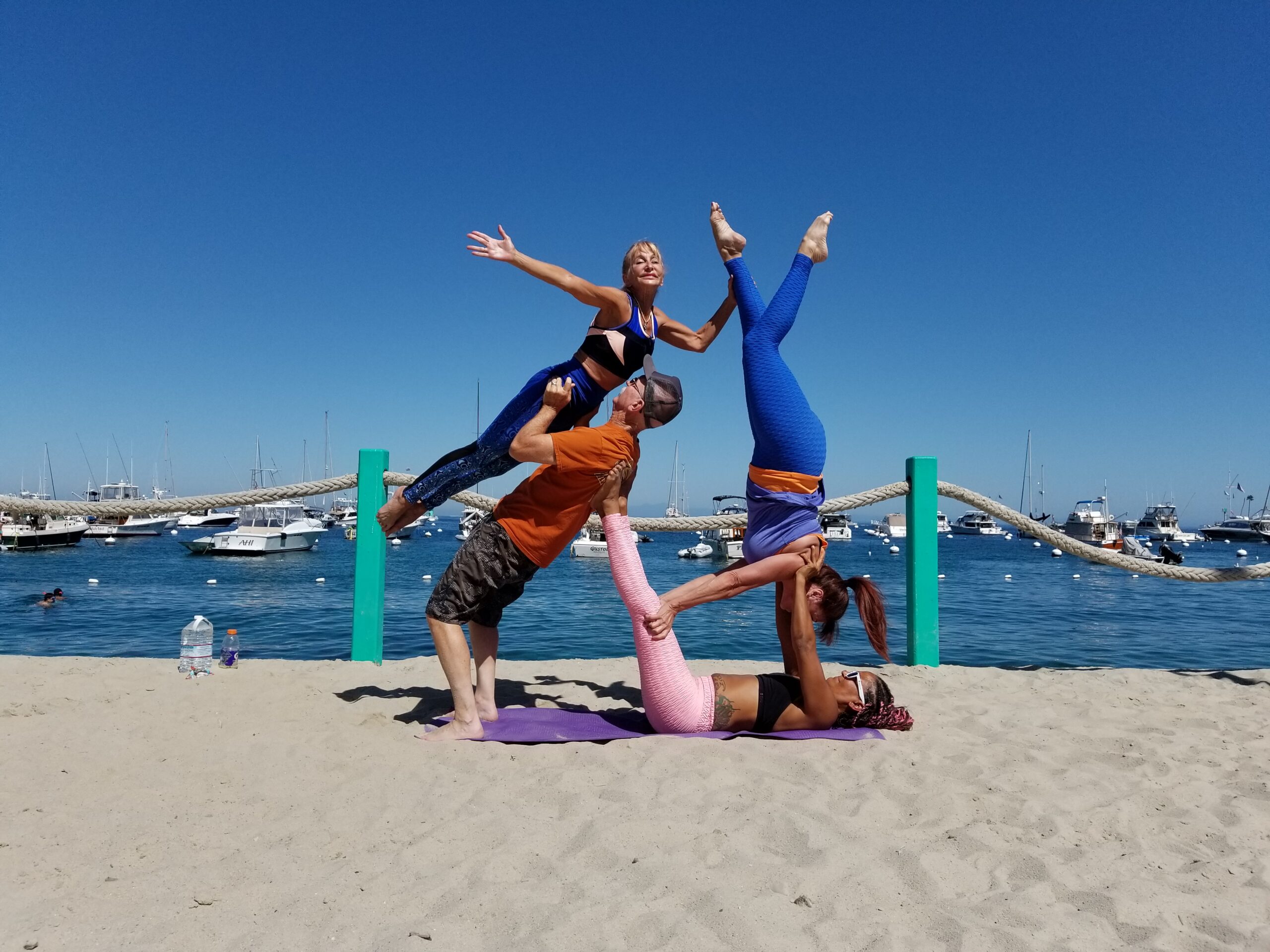 Like the previous pose her too, one girl is the base while the man acts like a half base leaning on the girl's feet; the left girl is in a flying pose, assisted by the man and holding the leg of the other girl. This girl is in the headstand pose. She holds the legs of the base girl, who, in turn, holds the girl in a headstand pose upon her shoulders.
More people?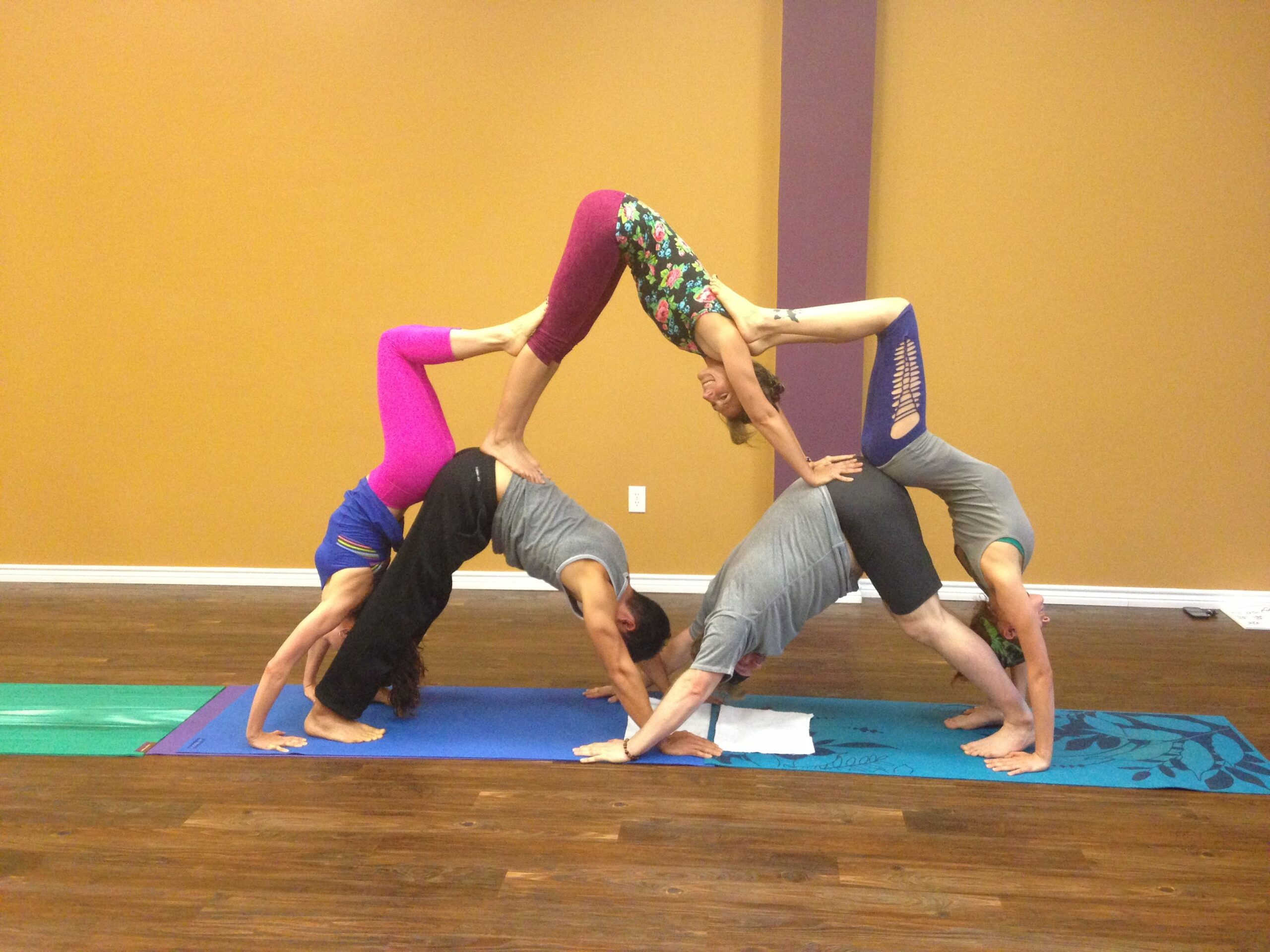 Sure! You can go further. If you have mastered doing 4-person yoga poses, you can go in with even 5-person group yoga poses. See the example in the photo:
It seems very funny and challenging, right?!
More: How Many Days A Week Should I Do Yoga ? – Healthy Tips
Conclusion
Overall, team acro yoga is an excellent method for bettering your mental and physical health. In addition, you can practice it with your colleagues to help them improve collective relations. It is very helpful as the common challenges, and common decisions help to boost trust.