The 44 years old Tyler Labine known famously for Dr. Iggy from the NBC medic drama New Amsterdam is our Topic of interest today. If you have been following Dr. Iggy you'll know from the last 2 seasons that he was always all about food. We could literally see his binge eating everything he could. As season 3 progresses, we get to see a newer version of our favorite Dr. Iggy and this is how it happened.
Gather all the details of Tyler Labine Weight loss problems and his early childhood eating disorder diagnosis in the given context below.
Tyler Labine Weight loss journey – His struggles with eating disorders
From binge eating to body dysmorphia and eating disorders,  Dr. Iggy was mirroring every aspect of Tyler's real life. With the advancement of seasons and especially season 3, there was nothing much that had been left behind.
Mirroring his own life on screen was not easier,  but soon he spoke to his writers and showed his concerns about what was written in the script for him. He said it to be triggering in real life as well. After few more conversations with the director and writer, his real-life troubles were soon part of his own TV performance.
Tyler thinks this could be helpful to many unspoken men or another person out there as he has been dealing with it for quite a long time without discussing it. Tyler said he had understood the real deal of taking help for his disorder after a long time,  his decisions of portraying the different issues to society would be helpful in many ways.
Taking a step forward,  Tyler explained the real need of doing a change and said,
I wish I'd done it sooner. It's been really cathartic to embark on this journey with Iggy, but it's a big breakthrough for me to tell my story, and hopefully, it will help other people.
He said it was difficult loving himself for him as he faces body dysmorphia but now with this change, he could finally try to accept himself the way he is. He said,
The main theme for Iggy, between Season 2 and Season 3, is that he doesn't know how to love himself or love his own body. Which is cool because I struggle with that, and that's not something I've seen represented from a male perspective in any type of medium.
He added,
My parents are big fans of the show, and they are going to be shocked. There is stuff in there that I haven't even talked to them about.
Not stopping here,  Labine also mentioned how his body was being told disgusting by his own father at a very young age.  This made him recognize himself as "Disgusting" since the age of 9. He stated,
Around nine, I started to get a little chubbier than my two brothers. One night my dad saw me with my shirt off, slapped my gut, and said, "Oh my God, that's disgusting. Look at that thing!"
He went on and said,
From then on he put me on these crash diets and made me feel very different from the rest of my family. He built a little makeshift gym in the basement and would take pictures of me to chart my progress. I felt like the love I received was in direct relation to how much weight I lost. At 11, I'd lie in bed at night dreaming about getting liposuction, and at 12, I made a clumsy attempt at killing myself.
Hence Tyler Labine has been a very damaged child from the inside and he could not even ask for any help before his late age.
Tyler Labine seeking help for his eating Disorder
After living with years and years of weight loss and eating problems the New Amsterdam star Tyler Labine finally went to ask for some help. Going to the clinic for several checkups were eventually came of use and he was actually diagnosed with body dysmorphia.
He was so anxious about his condition that he started drinking to mask his feelings and to neglect his body flaws. Tyler stated,
The 'funny fat guy' characters I often played seemed impervious to people's insults, but I would feel hurt by them. Drinking became a way for me to mask my feeling of being less-than.
Clarifying his struggles and consultation from the clinic he added,
Now, I've been sober for the last three and a half years. I'm in a 12-step program, I'm on antianxiety meds, and I do talk therapy once or twice a week, which has allowed me to start erasing some of those messages from my parents.
Meanwhile, Dr. Iggy was finding a way to cope with his body and eating problems,  the real-life Tyler Labine was coping up much well his self-love. Tyler was now more confident as a human being and is living his family life as he always should have.
He concluded by saying,
I'm learning to accept, surrender, and forgive, and I'm starting to look at myself as a more whole human being whose successes have nothing to do with weight. And dinners with my family are what they should be: We talk, we eat the same tasty food, and it's fun.
I hope to see the same transition to the Dr. Iggy character as the real-life Tyler did to himself. As season 3 of New Amsterdam progresses, there is a lot more to modify and accept for Dr. Iggy we assume.
How did Tyler Labine lose weight?
Tyler has done a lot of struggle with an eating disorder and body dysmorphic condition which ultimately pay him back in a good way. The exact diet plan and workout session are not yet revealed by Tyler Labine. But we can assume from her recent healthy looks that there are a proper diet and exercise which made him shed a good amount of weight.
Tyler Labine before and after
From his recent clicks and posts on Social media, we can surely see the difference in how positive and prolonged has Tyler's success been. He is looking to be a completely new person with the self-acceptance and self-loving trait being polished. Tyler Labine has not yet stated some clear value of how much he has lost over his body but we certainly know he did.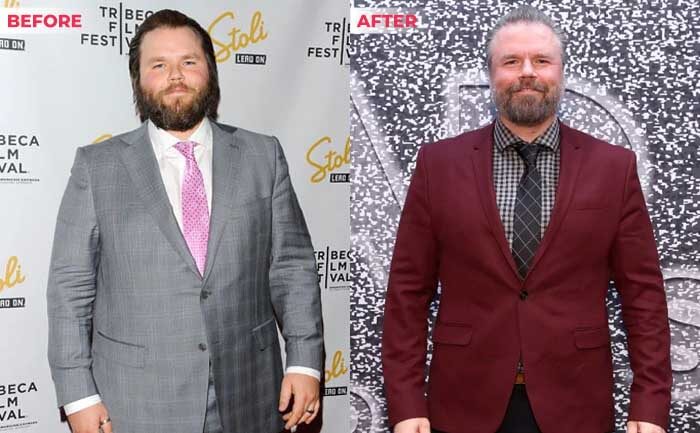 Tyler Labine Height and Weight
The 43 years old Canadian actor has maintained himself and dropped his scale valued to mere 77kgs. With a height of approximately 1.81m, the balancing weight is much more of a powerful pact to his personality and career.
Our Concluding remarks
In the above context of Tyler Labine Weight loss journey,  we hope to put forth every detail of his medical conditions and the effects of his childhood traumas on his life. Tyler Labine has just not fought alone with himself and his medical conditions, but he has paved the way out for many others struggling the same way as he did. With acts of bravery and confrontation, he did set up a good example of self-love and self-control for a better personality inside out.